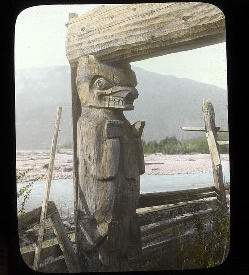 Above: Grizzly Bear House Post at Talyu. The post belonged to the wife
of a Nuxalk Chief, Mrs. Tallio Hans. Collector Harlan Smith robbed us of our heritage when in 1923 he took this house post for the Victoria Memorial Museum – now called the Canadian Museum of Civilization. The photo is
a view from the south taken on 19 August 1920 by Smith. He observed that it was the post from the northeastern front corner of the most northeasterly house in Talyu.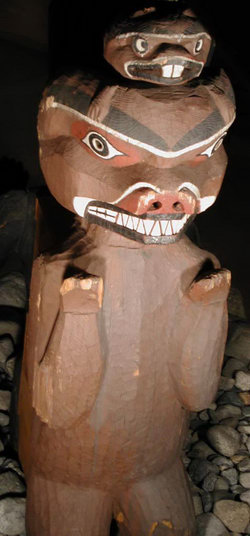 Above: Mortuary figure from the old village of Talyu. We were robbed of our heritage when this figure was taken from our Talyuumc Land for the BC Provincial Museum in 1913 by collector Charles Newcombe together with a second mortuary figure.
Today I attended a meeting set up by the BC government and logging industry to announce their two year helicopter logging and dump site plan for Taleomey Narrows at Talyu (South Bentinck).

They called it a "prep" for a consultation meeting. Four Hereditary Nuxalk Chiefs, including myself, and five Nuxalk Council members were present along with industry and government representatives: two from
the BC Ministry of Forests and three from A&A Trading Ltd.

This is the third time that I have asked a logging company to stop logging at Talyu (South Bentinck). Several years ago Nuxalk – Talyu Elder Robert Andy and I went back to our Homeland. We found that Interfor was logging the flats at Taleomey Narrows. This is the location of my Family's land and the Snuxyaltwa Farm.

Neither the Nuxalk House of Smayusta Chiefs nor the Nuxalk People were informed of this logging operation by Interfor. At the time, Interfor stopped their operation.

Not once has the company talked with me or any of the Hereditary Chiefs. Instead Interfor used their illegal operation as a negotiation tool to start talking about Forest and Range Agreements and Community Forest Licenses.

A&A Trading Ltd. have since bought Interfor's logging licences. Last year, with the Nuxalk Chief Council present, I asked A&A Trading Ltd. to stop logging. Once again they stopped their logging for a short period of time only.

I have repeatedly asked for respect for the Nuxalk Hereditary Chiefs, as well as for the wildlife, the bears, deer, ducks, halibut, ooligan, salmon, crabs and all living creatures that survive at Talemoney Narrows.

Our land has been overlogged and needs healing time. I have requested that all logging operations be shut down on our Nuxalk Land because many of our brothers and sisters are dying out. Other Nuxalk Hereditary Chiefs support me:

Unity Statement by Chiefs

But the helicopter logging and log dump site negotiations at Taleomey Narrows have started again. . .

I gave the BC Ministry of Forests and A&A Trading Ltd. an invitation to the Snuxyaltwa Totem Pole Raising and Potlatch where Hereditary Chiefs spoke about Talyu. The BC Ministry of Forests and Interfor alias A&A Trading Ltd must learn about Nuxalk Ways, about how everything to do with our Land and Territories is done within a Potlatch System of Government.

Above: Talyu Pole. This house pole from the Nuxalk village of Talyu is displayed in the Grand Hall at the Canadian Museum of Civilization.

The 25 ft high pole was carved as the entrance to a Nuxalk long house. Later it was made into a grave monument and the disc on top (now missing) was added to represent the Sun. Below the Sun are the mythical Cannibal Bird, Beaver and a Supernatural Being.

The Talyu house pole was taken from our Land in 1923 by Harlan Smith for the Victoria Memorial Museum in Ottawa.