Pithouse at Scw7cwlk
"First of all; we acknowledge and recognize Tatau,
the Creator through Manakays, the Great Spirit
for all that is provided for us since the
beginning of time and still is today"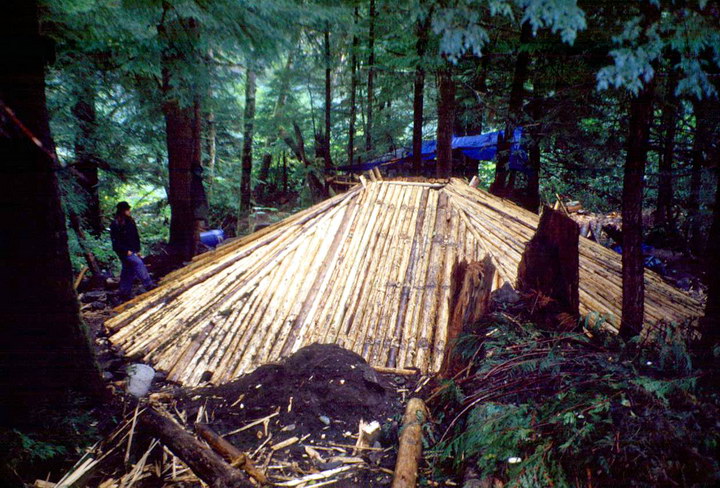 Statement from Hereditary Chief Qwatsinas:
The reoccupation, asserting and reaffirming of Nuxalk sovereignty protects the rainforests in the mid-coast of British Columbia. Other methods stall the clearcut destruction of the rainforests but only temporarily. Reoccupation is a long term strategy which draws public attention to the destruction of Nuxalk lands. The reoccupation of Scw7cwlk by Suncw (Jesse Oud) and Alecia (his partner) is a courageous action that demands respect and recognition from all peoples. The "Land of the Nuxalk" has been lost for a long time, but a rebirth is happening: the Nuxalk are returning home to their traditional lands. You have our support.

Statement from Head Hereditary Chief Nuximlayc:
The Nuxalkmc must recognize and use their "Smayustas" (stories of origin) again. Through our smayustas, we must bring back our family chiefs and names and claim our watersheds that belong to them. We must recognize our homelands where our names come from, and our history originates. When these watersheds are destroyed, our family heritage, and our way of life is destroyed also. I say thanks to Suncw and Alecia for taking that step to protect the Scw7cwlk. Nuxalk life and heritage is a treasure to the world.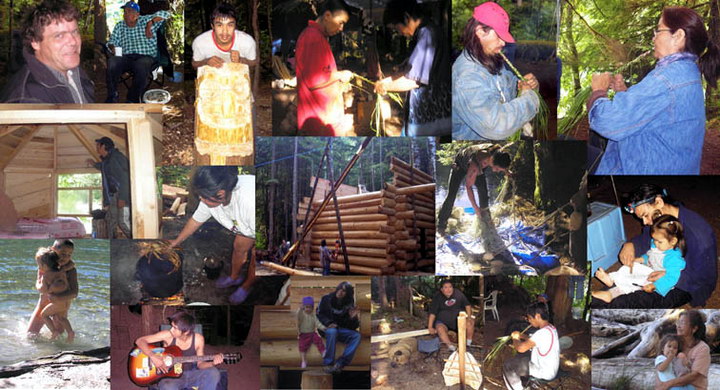 1 December 1997

Statement by Suncw (Jesse Oud):

Yaw Smatmc; Hello Friends, first I would like to acknowledge the Creator for this day. We ask all First Nations, and all other supporters, to write to the authorities to stop the proposed destruction of Scw7cwlk which is a unique place of beauty in this world. We ask you to stand strong with us in defense of Scw7cwlk and Nuxalk Sovereignty. My English name is Jesse Oud, my Nuxalk name is Suncw. I am a young Nuxalkmc dedicated to keeping our culture and heritage strong.

As a Nuxalk sovereigntist I have broken away from the governments reserve boundaries and have reoccupied a traditional village located in Scw7cwlk (Skowquiltz) Valley. This village site once provided for thousands of our people, and could sustain all Nuxalkmc today.
Since the beginning of time, Scw7cwlk has provided an incredible abundance of salmon (four species), mountain goat, moose, deer, wolves, black and grizzly bear, eagles, ravens, as well as countless other species of animals and birds; all of which hold the identity of our people.

It is from all these we get our names, songs, dances; and are provided with the incredible gifts of food and medicine from the Creator. Without these our Nuxalkmc Way of Life would not exist.
Scw7cwlk Valley, my home, where I have constructed a traditional Pit House, is the place I will remain throughout the winter and continually hereafter. Scw7cwlk is slated to be roaded next spring, 1998. These roads are preparing access to 55 proposed clearcuts. Permits granted by the Ministry of Forests allowing this destruction by logging companies are illegal. We, as Nuxalkmc people, have never ceded our territory, never entered any co-management or interim agreements, or signed any treaties concerning our traditional territories.

I am writing to all who share the same heart and dedication in preserving this land from the destruction of corporate clearcut logging practices. Nuxalk Territory includes the Bella Coola Valley on the mainland coast of what is known as British Columbia. I am asking First Nations, Canadians and international supporters to write to the British Columbia Ministry of Forests to stand strong in defense of Nuxalk Sovereignty and the reoccupation of our ancient Scw7cwlk village.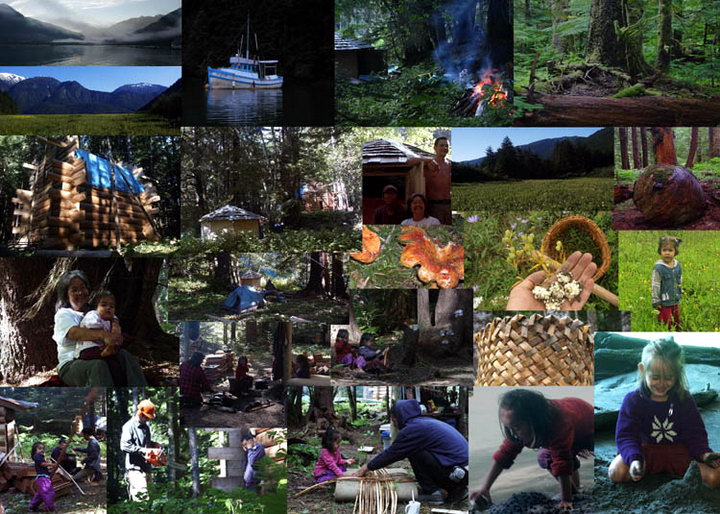 Ancestral Tide: Traditional ocean and river fish weirs will be constructed to practice the 'old' way of harvesting. Cedar bark and spruce roots will be harvested for the construction of the river weirs. We will transport people to visit their ancestral homes; to check out the viability of relocating / reoccupying their traditional location. We will mill material required for building and or repairing or completing contemporary shelters. A Pit House will be rebuilt by youth.

To teach hands on methods of harvesting and preparation of contaminant free traditional foods and medicines. To educate, and harvest traditionally and ceremonially. To educate and transport people who want to use Spiritual Healing. Cedar poles will be harvested and peeled for completion of the Pit House. Spruce roots and medicine barks will be harvested. Plots of root food will be sectioned and weeded for fall harvest. Digging tools will be harvested.

Ongoing observation of Goshawks, Murrelets and Salmon will be documented. Sites for fish weirs will be established. Seasoned cedar bark worked and used for river fish weirs. Sacred sites will be visited. Ceremonies and traditional songs and dances will be practiced.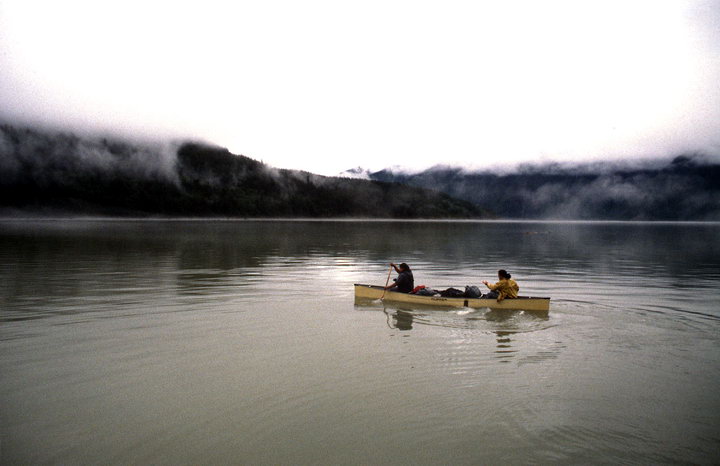 Suncw (Jesse Oud) and Alecia canoeing to Scw7cwlk in 1997
NUXALK STRONG – NUXALK FOREVER
---