Potlatches the Nuxalk Way
Strengthening Our Nuxalkmc Spirit
The Nuxalkmc and House of Smayusta Chiefs are still holding potlatches the Nuxalk way. Potlatch is the name given to our traditional system of government and ceremonies. Within our Potlatch government, no Hereditary Chief has given his or her territory or land to any foreign (Canada or British Columbia) government.

We believe that the Creator has given us our land and that we are the care takers of it. Foreign goverments have sold ancestral Nuxalkmc land without the consent of the Hereditary Chiefs. Much of our land has been illegally sold to logging and mining industries, to fishing and hunting industries and to private developers.

We protested the fish farm hatchery that was built at Ocean Falls in 2003 and the rock quarry planned for Bella Coola in 1999. Currently there are plans to exploit our rivers for power and develop a deep sea port at the mouth of the Bella Coola River. To serve the port, a new super highway is planned from Williams Lake to Bella Coola. Tourism ventures like helicopter skiing take place against our wishes.

The Department of Indian Affairs (elected leadership) is used to promoting their so called "new relationship" with industry and the goverment of Canada. Examples are the Marine Use Plan and Forest and Range Agreement. Lowly divide and conquor style tactics tempt Nuxalk communities and families with kickbacks and jobs while encroaching on the land of neighbours, friends and families.

Way!

Chief Snuxyaltwa
Q'umk'uts'
1 September 2009
In the Nuxalk Nation the social, religious, political, and economic aspects of life are interwoven, they are not considered as distinct subjects. Each Nuxalk's birthright is contained in a structure, which dictates their position under each of these subjects. This structure is unique to the Nuxalk Nation and is considered law. The foundation for the laws comes from the Smayustas. The Smayustas are the origin stories of the Nuxalk Nation. These stories are the direct link to the Creator, and in turn it is their duty as a citizen to uphold the laws.

These laws and social positions are officially recognized and carried out in the Potlatch system. The Potlatch system is where important legal, political and economic decisions are made. It is also a special time for religious ceremonies. During the Potlatch the whole community comes together to witness these events. It is their presence that validates the decisions should discrepancies arise in the future. At the Potlatch, the Smayustas are passed on through oral traditions and customs, including; story telling, songs and dances. The Smayustas also contain information about special regalia and name giving ceremonies.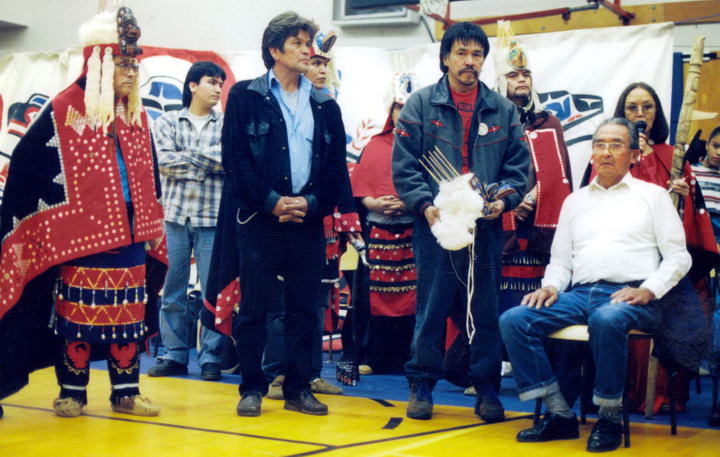 1997 Memorial Potlatch for Grannie Felicity. From left in front: Head Chief Nuximlayc (Lawrence Pootlass), Cecil Moody, Harry Schooner (holding the headdress he carved), and Philip Hans (seated). Nuximlayc will place the headdress on the head of Philip Hans. Chief Qwatsinas and Skyakw (Karen Anderson) are standing behind.
Above: 19th Century Nuxalk Raven Potlatch dish,
Smithsonian Institution, Washington DC.

"My parents were told not to speak their language or to practice the dances, the songs. Now that has got to be stripped away. Our People are growing up to realize we mean more to this Earth than just a welfare case. We have a history and a language, and nobody else has this particular history and language but us. We're not like the watered down citizenship of white Canadians. We don't say, 'I got a hundred spring salmon,' and the old lady sitting there is saying, 'I can't fish.' We have to work together. We have to fish for the ones who can't. Relations are getting better. Racial prejudice begins with saying: 'I'm better than this other person.' We're not going to use uncertain standards comparing us with somebody else. . . . I realize now that a seagull is a seagull. It has its own certain colour, its own certain food, its own certain ways. And it's the same for us. We're going to just be ourselves. That's all." Qwatsinas in 'Wisdom of the Elders' by Ruth Kirk, 1986.
The Snuxyaltwa Memorial Potlatch was held in Bella Coola on 11 and 12 November 2011, hosted by the Snow Family.

It was a time of traditional Nuxalk celebrations: marriages, name giving, honouring, healing, tombstone memorials, give–a–ways, ancient stories, singing, dancing and feasting.

Tombstones were unveiled for Peter Snow, Donald Snow, Amanda Siwallace, Marlene Cuyler, and Sam Hunt. Ashley Snow and Judy Snow were honoured in a hereditary dressing ceremony. We celebrated the 80th birthday of Head Hereditary Chief Nuximlayc (Lawrence Pootlass).
NUXALK STRONG – NUXALK FOREVER
---