Chako Kunamokst at Kimsquit
| | |
| --- | --- |
| | Chako Kunamokst Rediscovery began in 1984 in Kimsquit, on the traditional territory of the Nuxalk Nation at the mouth of the Dean River. "Chako Kunamokst" is a Chinook Jargon word for a gathering place. Chako Kunamokst Rediscovery is a personal empowerment program where participants are acquainted, or reacquainted, with the natural land and spirituality. The camps are located on the Dean River in Kimsquit, a Nuxalk ancestral village site, accessible by boat or charter plane only. The participants learn, grow and heal in a wilderness setting by utilizing traditional First Nations culture and other activities. |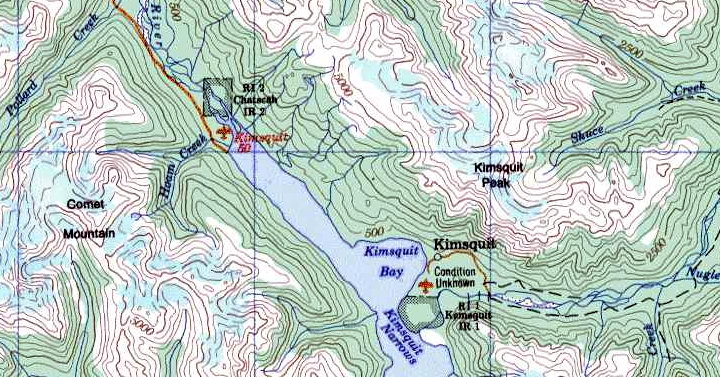 Above: Topographical map of Kimsquit and Dean River showing the location of Kemsquit Indian Reserve #1 and the Chatsch Indian Reserve #2. Click for larger image.

Left: Photo of Kimsquit Village and its residents taken by Edward Dossetter, before it was bombed by the British navy in 1877. Other instances of colonial violence at Kimsquit included Indian reserves and salmon canneries.
Above: Kimsquit Bay on Dean Channel.

Left: Aerial view of properties "timbered vacant land with river frontage" for sale at Kimsquit on Dean River in 2012. Themsale of private properties like this as wilderness retreats for sportsmen threatens the Indigenous Title and Rights of the Nuxalkmc.

The photo shows the airstrip used by Interfor in the 1970s and 1980s when it clearcut logged Kimsquit Valley. None of its profits went to the Nuxalkmc.
NUXALK STRONG – NUXALK FOREVER
---