Defenders of ISTA
"Be on watch for the land that our People of the past lived at. These places were named by the Creator. Our People have never forgotten these names, and that proves this land still belongs to the Nuxalkmc" Skwucwlikwana.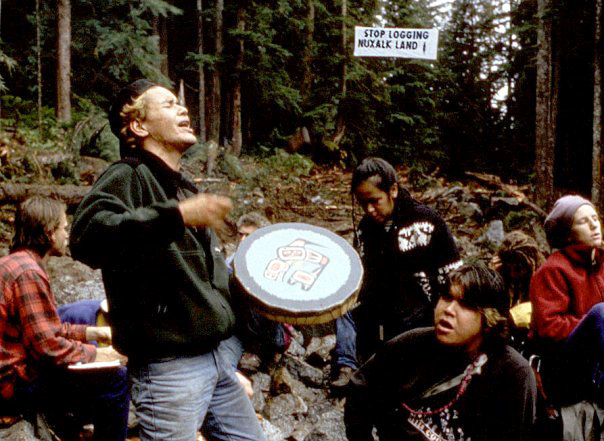 "STOP LOGGING NUXALK LAND!"
Left: Chief Qwatsinas being read the injunction order brought about by Interfor during the Nuxalk blockade at ISTA, Nuxalknalus (King Island) in 1997.

"We call ourselves political prisoners. We are opposing the destruction of ISTA and we stand by that. This is not an enforcement issue, it is a political, environmental and human issue"
Chief Qwatsinas.
PROTESTED – ARRESTED – NOT SILENCED – The ISTA 24
Left: In 1997 these Nuxalkmc walked a kilometre up the mountain to the blockade against Interfor's clearcut logging of ISTA. Elders Nunanta and Skwucwlikwana are seated in the centre, next to Karen Anderson (Skyakw) and Lawrence Pootlass (Chief Nuximlayc).

In the back row are Harry Schooner, Cecil Moody and Edward Moody (Qwatsinas).
Some of the Nuxalkmc Elders "Superwomen" who defended ISTA enjoying a cup of coffee together in Bella Coola in 1997.

Left to right: Mercy Snow (nee Webber), Lucy Mack (nee Schooner), Kitty Moody (nee Schooner), Amanda Siwallace (nee Snow).
Some Defenders of ISTA – 1999
| | | | | | |
| --- | --- | --- | --- | --- | --- |
| | | | | | |
| Nuximlayc | Skwucwlikwana | Snuxyaltwa | Licwmutusaycw | Numanta | Simkimusnam |
| | | | | | |
| Qwatsinas | Umma | Nusmada | Tl'alamin | Skyakw | Slicxwlicw |
| | | | | | |
| Philip Hans | Wilfred Tallio | Elsie Jacobs | D. Clelamin | Suncw | Harry Schooner |
Superwoman Numanta: Defender of ISTA
Left: Protesters at ISTA, 1997. Among them is Nuxalk Matriarch Numanta (Amanda Siwallace) who was carried to the protest site at ISTA in her wheelchair through the mud.

Numanta was very courageous and endured many hardships to make her voice heard.

Numanta was one of the ISTA 24 and camped on Nuxalknalus (King Island) for many weeks to help protect ISTA from being clearcut logged and destroyed by Interfor.
Above: Numanta (Amanda Siwallace) drumming in 1997 while teaching Harry Schooner (left) and Ray Morton (right) some of the traditional songs performed at ISTA.


Left: Memmorial stone for Amanda Siwallace (1919 – 2008) unveiled at the 2011 Snuxyaltwa Potlatch. The passing of Numanta was mourned by all Nuxalkmc and she will always be remembered.
Warren Snow: Defender of ISTA


Above: Warren Snow being arrested at ISTA in 1997. He was one of the ISTA 24.

Left: Warren Snow in the
House of Smayusta in 1997.

And twelve years later, Warren Snow at the Snuxyaltwa Totem Pole raising at Talyu in 2009.
NUXALK STRONG – NUXALK FOREVER
---