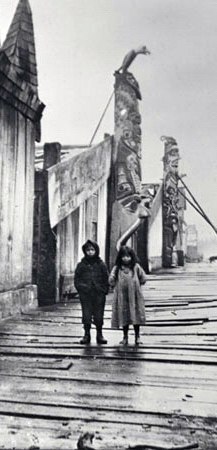 "It's kind of a bum deal . . . I guess the British government was afraid of colonization by other countries, so they started encouraging their travelers, I guess you'd call them, to explore land, and survey it, and occupy it. They'd survey the Hudson's Bay Company land and after that they'd establish the reserve land. But that's backwards.

John Clayton was the trader and he was living here with a Native woman; our people had said to him, 'sir, you have our permission to stay here.' There was a village there (by the Company store). There were longhouses. And then later we found out, 'that's not your land anymore.' We've done a lot of research and when we bring our land claims, this will all come out. [Left: Q'umk'uts', c. 1890.]

I looked at the McKenna-McBride (Commission) minutes. They didn't even let the Indian people know what was happening. . . The population of the valley today is about 1,800 and we make up 800 of the 1,800. We occupy just over 3,000 acres and the others have 600,000 acres from the head of the valley to here. Yet (when Alexander Mackenzie arrived) we had 34 villages from the mouth of the river to the precipice. We know where they all were; we've got them all worked out on the map." In Ruth Kirk, Wisdom of the Elders, 1986.